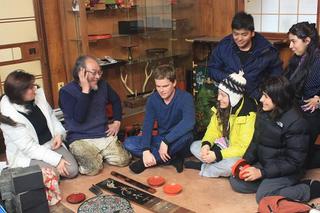 Mainichi Newspaper 26th January 2011
Grass-roots Diplomacy
Recently, there are many Guesthouses (budget accommodation) sprouting up Nara City.
" Guesthouse Naramachi "In Kita-Kyobate Cho is one of them.
This house was built in Taisho period( 1912-1926 ) as a merchant house.
It was renovated as a guesthouse in the classic Taisho period style.
There is a little Japanese style garden and Kura(traditional storage building), which is popular among foreign travelers.
Lobby at the entrance has become a meeting place for travelers and locals.
The owner Shunju Anzai is a retired engineer from "SHARP" corporation.
Spending retirement money, he opened it in the end of the year 2009.
Since then, guests from fifty countries around the world have visited!
Four students and their teacher from Japanese language school in Colombia in South America came to stay the other day.
They planned to travel through Japan for one and a half months staying at cheap hotels.
The teacher, whose name is Ninferr is a beautiful lady speaking fluent Japanese.
I happened to guide the group to the workshop of a lacquer master in Nara called Tarui.
In Nara, they revived lacquer techniques which were used for the imperial treasures of Shosoin(built in 8th century) in the Meiji period.
They make Raden, beautiful Japanese lacquer-ware with the same technique still.
The students were listening into the description by the master Tarui, even with the tears of joy at the end.
It made a big impact on their minds to feel the deep part of the old Japanese tradition.
After that we went to a bar nearby for a drink leaving the under-age students.
Blue-collar gentlemen who found it rare to meet them kept offering us drinks and food, and speaking to us.
The bar turned into a Latin atmosphere.
Until now, I never even cared where Colombia is, but suddenly it started seeming familiar.
Though the country has continuous civil war, I really wish peace for Colombia, and I would never want to have a war against them.
To commune by exchanging culture with other people.
That is the foundation of peace, grass-roots diplomacy.
Also, they would never forget Nara. It's necessary to have a community place where tourists can commune with local people rather than sightseeing where you just walk through the sites.
May there be true prosperity for this "Machi"
At the end I was convinced that it's not a "luxury hotel" which brings that.
ならまち暮らし 寮美千子110126.pdf